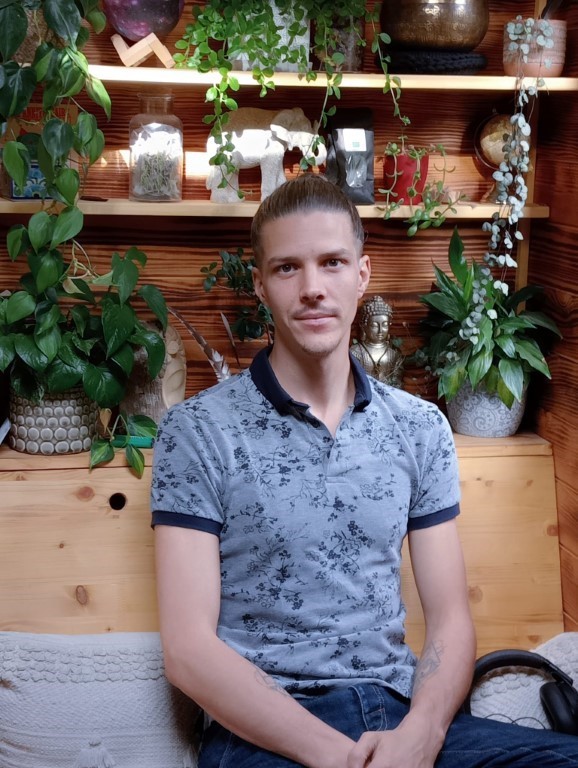 Maison de Lunel Yoga and Fitness Experts
Jerome Gaultier – Yoga Practice & Meditation
Jerome will be hosting your daily Yoga and meditation classes during the Juice Detox Retreat. Over the week his classes focus on two key aspects :
help the body detoxify and

demonstrate how Yoga can improve your deep inner self.
It is the practice of this millennial art and his various journeys around the world that Jerome has developed his teaching. During your week at Maison De Lunel, he will use different styles of Yoga such as Vinyasa, Hatha and Yin Yoga. But he will also share with you a method that will enable you to build your own practice around is good for you.
Whatever the style, the practice of Yoga is a path that teaches us how to understand ourselves better. We can also learn how to improve, through the study of philosophy, purification of the body and by having a deeper connection with who we are. 
Jerome's classes focus on the main yoga poses, the connection with the breath and awareness of the body. Classes can also be easily adapted for all levels of experience and flexibility. Discover, experience and learn how to easily implement yoga in everyday life and how achieve benefits from this amazing practice.
Your Daily Yoga Practice
Our morning classes comprise a dynamic Vinyasa-style class to raise energy levels, awaken the body and tone the muscles. This flow practice deeply links each move to each breath. It is the perfect start to your day – activating both the metabolism and the detox process.
A gentle Yin Yoga class in the afternoon helps to ground and explore the body through deep stretching. It relaxes the nervous system and makes space for the silence. This is the first step to meditation, a practice that aids detoxification on more than just a physical level.
After dinner we share a meditation practice, such as Candle Gazing or Yoga Nidra (the yogic sleep). This is a guided meditation to explore your consciousness and prepare you for a great night's sleep.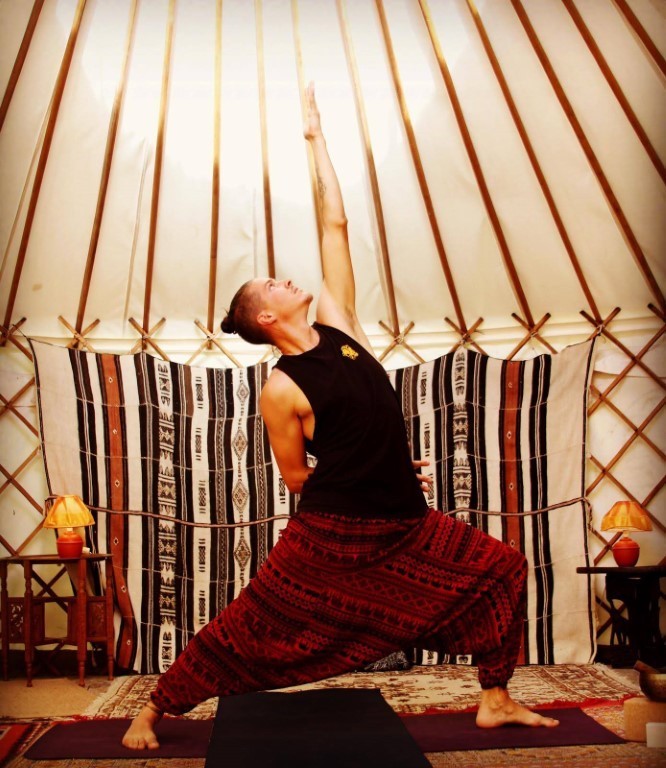 More about Jerome
Before travelling the globe, Jerome was an energy engineer and had developed skills in the construction of alternative types of habitats. He also worked as a vegetarian chef and enjoys cooking for health, influenced by the countries he has visited. He relishes spending time in the quietness of nature, as it allows for greater reflection and awareness of one's surroundings.
2023 Retreats & Dates with Jerome
6 May – 13 May
24 June – 8 July
22 July – 12 August
26 August – 2 September
23 September – 30 September
16 September – 23 September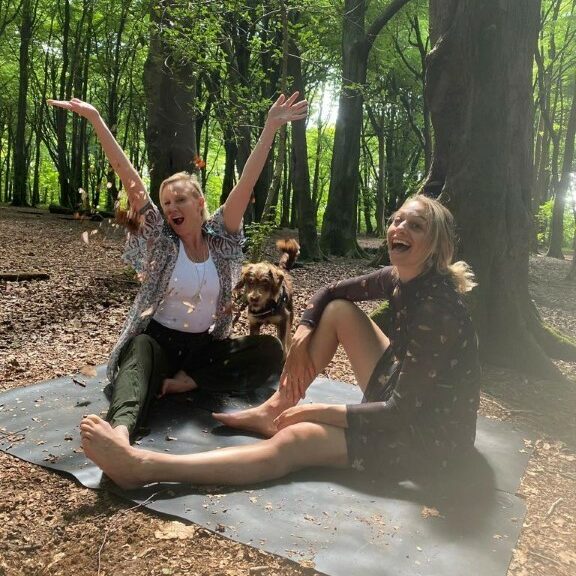 Lana and Bex: Yoga & Wild Wellness
This talented duo combine their teaching to offer Yoga classes that will take you on a Yin or Yang-style journey. Every session begins with a place of intention, and their combined knowledge brings a unique blend. And they have a style of teaching that caters to each individual in the room.
A typical class will start with intention, connection to breath, movements, and concepts to warm up the body. Then it will either progress into a more dynamic-style class, or slowly move into a calm, restorative session. Classes finish with a warm down, relaxation, sound therapy, calming breath and stillness.
Movement-based practice in the morning, combines with calmer yoga practice in the evening. Thus enabling you to connect to different aspects of your body, mind, energy and intention.
Yoga and Fitness experts
They have decades of experience teaching various facets of yoga and fitness within the health industry, including Vinyasa, Hatha, Yin, Nidra and Forest Yoga. Both enjoy using numerous health techniques to connect students deeper to their bodies. Techniques including sound therapy, Chinese medicine, physiology, psychology, injuries and modern-day modalities. As well as environmental changes and individual history.
Lana and Bex theme the classes by the environment. Ultimately ensuring that the sequences and energies are in tune with the overall concept of the retreat, workshops or a particular day's events. Classes are suitable for complete beginners, novices or experienced practitioners and are always planned with each individual in mind.
Lana and Bex will be your Yoga teachers from Saturday 8th April to Saturday 22nd April 2023 for our Organic Juice Cleanse & Yoga Retreats
Find out more about Lana & Bex on their website :  www.yogaandwildwellness.co.uk
Amanjot – Yoga Teacher
In 2023 Amanjot will be joining us to teach yoga between 27 May and the 10 June. During this period she will also be offering guests specific massage therapy.
Amanjot has more than 20 years of experience in energy and body work. As well as teaching yoga classes and workshops in her native Germany, she also facilitates Healing Circles and Trance Dance Rituals. She loves working with different themes and styles of yoga, such as Yin, Restorative, Kundalini, Hatha, Yoga for the Back, and Yoga Flow. When she joins us on our retreat, Amanjot will incorporate a variety of styles to offer you the most beneficial practice.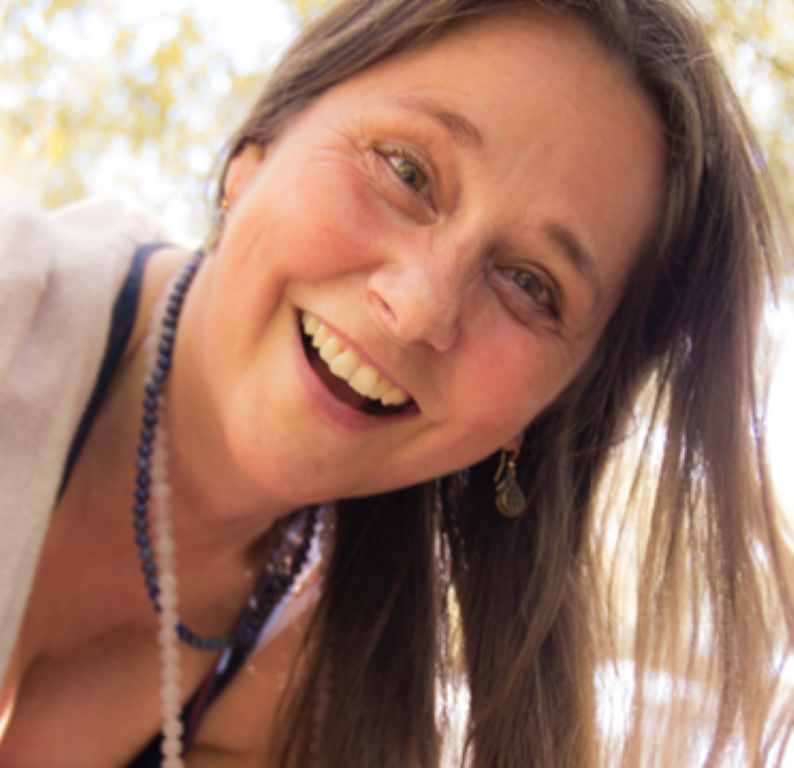 A real treat for the nervous system!
Amanjot's classes are designed to work on detoxification of the organs and the corresponding emotions. For example, her Detox Flow class uses more dynamic, physical Asanas to promote sweating and ultimately support your detox and toning of the muscles. 
Kundalini Yoga often uses stronger breathing techniques, sound, posture, and movement. The effects can vary greatly depending on the subject – sometimes challenging, often meditative and occasionally a little abstract! However, in all instances Kundalini yoga is transformative, healing and powerful. 
Amanjot will also practice Yin Yoga with you; a gentle, meditative style of yoga using pillows, blankets, straps and blocks to support your posture. Not only does Yin act on the fascia and energy channels, it is also very relaxing and aids letting go and detoxification on all levels. It's a real treat for the nervous system!
Amanjot's classes are designed for all levels of ability, with various options for different levels of experience.
Whilst she originally trained as a physiotherapist, Amanjot has practiced as a holistic healer for a number of years. So we are delighted that in addition to being one of our yoga teachers, she will also provide complimentary treatments. During your stay you can choose from Craniosacral Therapy, Intuitive Massage and Bodywork, or Yin Therapy. You choose the treatment you prefer, according to your needs. Find out more Amanjot and the treatments she provides on her website – Chimana.net
"I'm looking forward to supporting your needs during your Juice Detox Retreat, and facilitating and assisting your detox on all levels". – Amanjot
New Yoga Teacher – Chanti Hesp
In 2023 Maison de Lunel welcomes a new yoga teacher to the team. Chanti has travelled the world extensively and practiced yoga in almost all continents. In 2016 she embarked on her spiritual journey in Nepal completing her 300 YTT in Nepal and experienced sacred living. Ever since she has taught individuals, groups and at studios around the globe. She has also worked at beautiful retreat centres such as Mandali, Italy and Sterrekopje in South Africa.
Chanti comes from a very sporty background – field hockey, running, cycling and mountain trail running and you can still join her on one of her runs besides yoga. Her yoga style is Vinyasa (morning) and Restorative (evening), tapping into both the Yin & Yang energy. She has surrendered to the benefits of slowing down through restorative or Yin yoga and discovered the power within this sacred practice. Mediation is a big part of her daily routine and she will guide you on daily meditation as well.
Her hobbies and passions include travel, sports, yoga and cooking!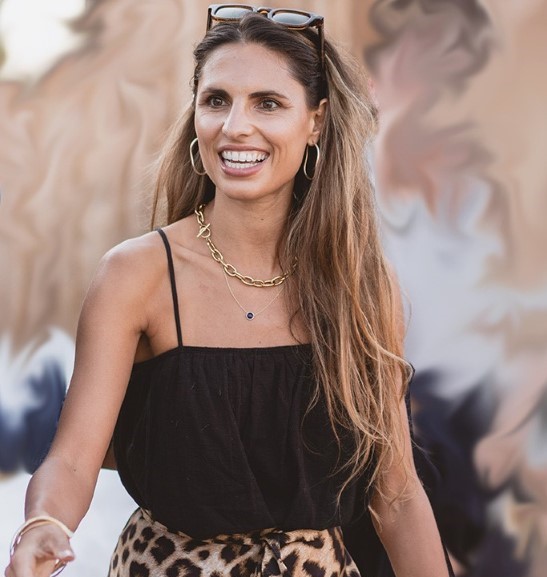 Absolutely lovely retreat, helped me a lot so I very much recommend. Felt energized and a better version of me at the end of the retreat.
The hosts are very warm and welcoming and good professionals. Loved it! – Alice, October 2022. TripAdvisor