LET MOTHER NATURE WAVER HER MAGIC WAND OVER YOU
One Day Organic Juice Detox & Yoga Retreats
If you are interested in learning more about the importance of detoxing; the difference between a juice and a smoothie; or keen to kick-start healthy lifestyle changes, but not sure where to begin; our one-day organic juice and yoga retreats offer the perfect way to start your wellbeing journey.
We believe in sharing knowledge with our guests to support everyone on their well-being journey, hence a core theme of our one day retreats is your learning journey – as well as starting to feel better and revitalised, we will provide you with the knowledge and tools to make informed choices and create new habits.
Our one-day Organic Juice Cleanse & Yoga Retreat provides you with the opportunity to learn about the benefits of detoxing and juicing in the relaxed and beautiful surroundings of Maison de Lunel.
So come and join us for an immersive day of juicing, learning, yoga and wellbeing.
Please note that we limit our one day retreats to a maximum of 10 guests
SPRING / SUMMER DATES WILL BE ANNOUNCED SOON
The One Day Retreat Programme:
08.30   Welcome Refreshments
09:00   Energising Juice Shot and Bienvenue à la Maison de Lunel
09:30   Morning Yoga
10:30   Morning Juice – G Force Shot & Green Juice
11:00   Why Detox? – Workshop & Discussion
13:00   Lunch Juice
14:00   To Juice or To Blend – That Is The Question? – Workshop & Discussion
16:00   Afternoon Yoga
17:00   Evening Juice & Farewell
Please note:
All juices are organic and vegan and gluten free – we are able to cater for allergies / intolerances by omitting certain ingredients from recipes, please let us know of any allergies / intolerances as soon as possible ahead of your visit. 
To optimise the benefits of your one-day retreat, we do recommend that you avoid highly processed foods, alcohol and caffeinated beverages in the three days before your arrival.
What to wear & items you might find useful:
Our priority is for you to feel completely relaxed during the day:
Loose yoga clothing / gym gear – you may wish to bring a change of clothes for yoga and the workshops
Cap / sun-hat / sunglasses
Swimming costume & pool towel – hopefully the sun will be shining and there will be some time early afternoon to relax by the pool or even take a dip!
Water bottle – filtered water will be available throughout the day
We do have a fully equipped yoga studio, however you my wish to bring your own mat and meditation blanket
The Team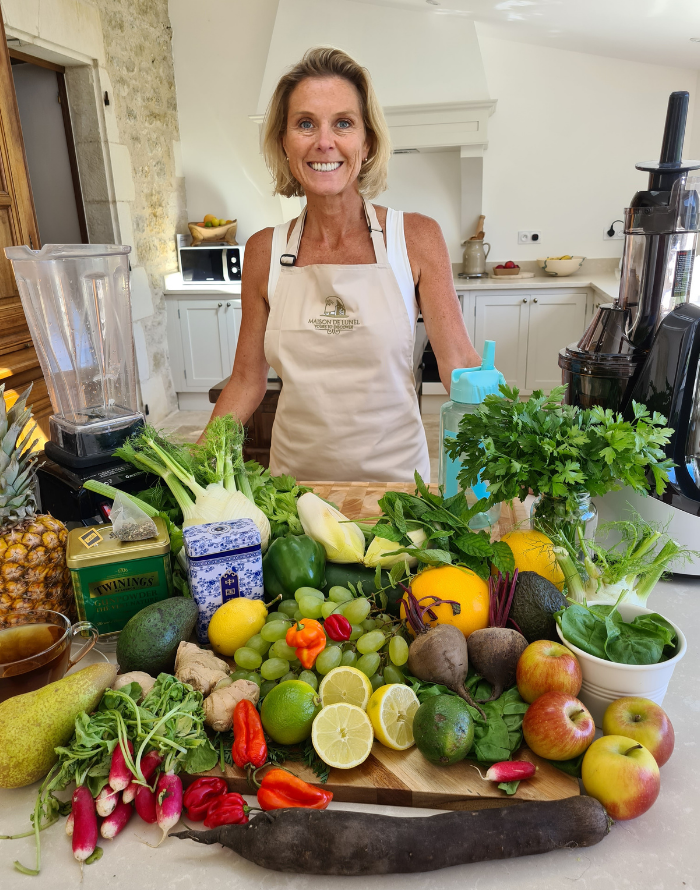 ROSS BECKLEY MCMA
Natural Juice Therapist
"Having made some significant changes to my own diet and lifestyle about 8 years ago I discovered a passion that motivated me to change my career and drives me every day to help others make small, but significant changes to their diet and lifestyle.
 I will be preparing your juices freshly on the day and explaining the benefits of detoxing and giving your digestive system a little R&R. I will be hosting the educational workshops and juicing demonstrations; explaining how you can support your digestive system and the radical impact that small changes can have on your health, vitality and waistline."
HELEN SMITH
Yoga Teacher
The beautiful setting of Maison de Lunel is an ideal location for practicing yoga. During the day, you will be completely removed from the stresses and strains of everyday life, and have a chance to explore the benefits that yoga and a good diet can have on your body. The yoga sessions will use a combination of poses and stretches to ensure that the body is opened and physically stress free. You will be introduced to breathing techniques that will enable you to increase the oxygen levels in the body, as well as those that help the body and mind to relax.